Consulting Insights
How Healthcare Marketers Win: Digital Opportunities in Response to COVID-19
As consumers embrace digital-first services, healthcare marketers must create seamless, digital experiences to reach both new and existing members and take advantage of the new learnings, data

,

and engagement opportunities this creates.

 
The coronavirus has impacted every sector of the world economy. The crisis and resulting stay-at-home orders have accelerated many existing consumer healthcare trends – including eHealth, Telehealth, or other digital healthcare services recommended by doctors and insurance providers. 
3 Consumer Digital Healthcare Trends Accelerated by COVID-19
1. Telehealth Becoming the Norm
The pre-pandemic virtual health market was projected to reach $380 billion globally by 2024, growing 26% annually. Up from 11% in 2019, now 46% of US consumers are using telehealth to replace cancelled healthcare visits and 76% are interested in continuing to use telehealth in the future. Growing consumer awareness of digital health options, more provider education about which care needs are available virtually, and a better understanding of insurance coverage for telehealth services have all contributed to this rapid adoption1. 
2. Consumers Demand Additional Digital Services
Since the onset of COVID-19, consumer demand for additional digital services from doctors and health insurance companies is on the rise. The most highly requested digital services are doctor locators, appointment scheduling, and medical record reviews. Millennials are more likely than other age groups to have had a virtual visit2. There have been over 300,000 digital health applications since the onset of COVID-19, with an average of 200 new applications each day3. The Center for Medicare & Medicaid Services lifted restrictions on Medicare Advantage plans and temporarily approved more than 80 new digital services such as the ability to conduct risk assessments via telehealth, allowing flexibility and access for these audiences to utilize virtual care4. 
3. Consumers Continue Utilizing eHealth Devices
70% of adults, age 20-39 years old, are using eHealth apps and fitness devices to maintain their health while many gyms remain closed. This demonstrates a similar digital shift in the broader health and wellness space5,6.
How Can Healthcare Marketers Win?
Rapid Prototyping & Faster Learnings: To meet pandemic demand, healthcare

marketers

 digital priorities are being rapidly accelerated

.

95% of organizations during the pandemic noted that technology priorities have changed, with 88% of technologists reporting that digital customer experience is n

ow the top priority

7. M

arketers

 should see these rapid prototyping efforts as an opportunity to try multiple versions and features to quickly evaluate what is working to best fulfill consumer needs. They should develop a robust A/B testing program for new digital features and enhancements and aim for a seamless user experience bringing together technology, medicine, and human engagement. Monitoring performance KPIs, alongside consumer sentiment and member experience metrics, will be critical components of the marketing feedback loop.
More Customer Data: Increased digital offerings and touchpoints create new opportunities for data capture. Consumers are also more willing than ever to share data with healthcare providers. 71% of patients are more willing to share their health data with their primary health care provider, 73% with their providers or health systems, and 53% with a leading national health system8

. Agile marketers will identify and maximize these new data sets to improve targeting and efficiency of marketing efforts to best serve members and communities. A close partnership between 

m

arketing and internal compliance teams will continue to be important as companies evaluate data usage policies with more data available than ever before.

 




Audience-Centric

 Creative

 &

 Messaging:

 

To capitalize on consumer's increasingly digital lifestyle

s

, h

ealthcare marketers should 

tailor creative and messaging to attract new prospective members and build awareness and education of new digital services available to existing members. 

View our "Audience-Centric Healthcare Marketing" best practices below.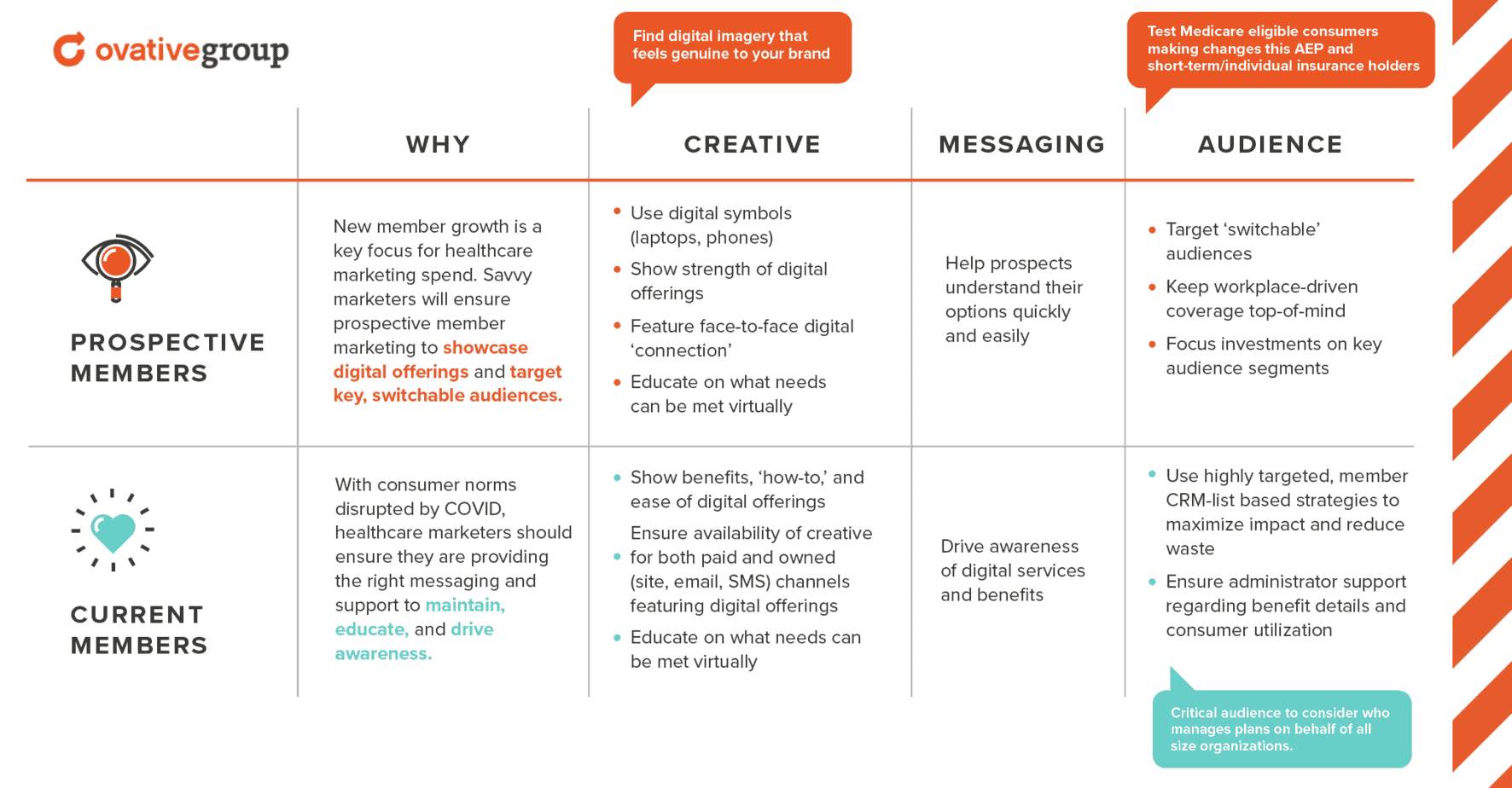 Audience-Centric Healthcare Marketing Grid | Ovative Group, September 2020
The shift to digital is here to stay. Winning healthcare marketers will capitalize on these opportunities by learning as much as they can about their consumers and embracing new creative, messaging & audience targeting tactics. 
Ovative is a digital-first media and measurement firm seeking to transform the measure of marketing success. At Ovative, we help brands move the needle. We are curious. We value your brand. We want to see you succeed. Connect with us to learn more!
Sources
:
1 McKinsey Consumer Survey, June 2020
2 Deloitte, Consumer Sentiment Survey, August 2018
3 Express Scripts, Healthcare Trend: Digital Health in the World of COVID-19, June 2020
4 McKinsey, COVID-19 Consumer Survey, May 2020
5 Statista Global Consumer Survey, 2019
6 Statista Global Consumer Survey, 2020
7 
Forbes, CCPA and COVID-19, August 2020
8 
Deloitte, 2020 Survey of US Health Care Consumers, August 2020