Good morning and happy Tuesday!
Welcome to a special 12th edition of Ovative's marketing/tech news digest – where we hope to keep you up to date on all things Pokémon Go-related to Marketing, Measurement and Technology.
Always informative, sometimes entertaining. Enjoy.
Fodder for the water cooler:  What are these people running from?  They're not!  They're running to a rare Pokémon…  Lots of people are into it.  Even Justin Bieber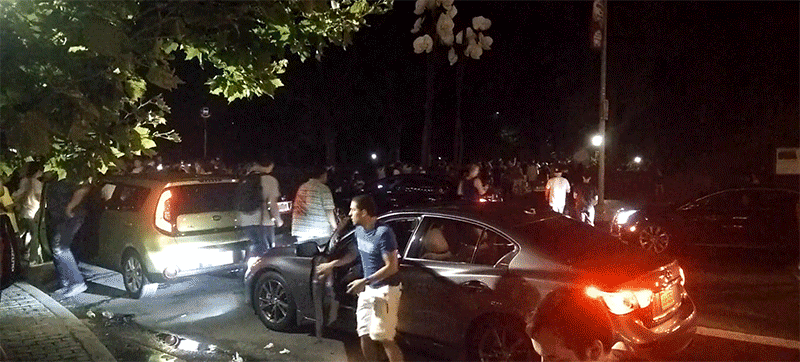 Beginner's Guide to Pokémon Go | USA Today | July 15, 2016
Quick Pitch: What is Pokémon Go?  How do you play it?  Why do people love it so much?  What implications does this have for the future of gaming?
Now I want the details:  Pokémon Go is a smartphone game that engages users in Augmented Reality (AR for short).  Designed by Nintendo and geo-based app design firm Niantic, which layers the game's playing map on top of Google Maps.  In order to play, you'll need to have location services on and be willing to walk around your neighborhood/city/mall/etc. while keeping your eyes on the screen for characters, items and other objects that pop into view as you physically walk close to them.  As you walk around, Pokémon (animal-like characters that have special powers) appear on the map.  After clicking on the screen to "catch" them, your phone's camera turns on and a Pokémon will appear to be within your camera's view.  A swipe of your finger and your character throws a Pokéball which captures the Pokémon.  Also on the game map, PokéStops allow you to train your Pokémon on how to fight other Pokémon, gain experience points or house other game-play items. What's the point?  It's fun… there's something entertaining about catching all of the Pokémon and pitting them against your friends' Pokémon.
What we're thinking:  This is next-level interactive gaming.  Augmented Reality has been of interest in the tech world for quite some time, but this is the first widely used application.  Pokémon Go has clearly showcased the power of blending real-world activities with a smartphone game.  Get ready to see a wave of new games that offer similar features and incentives to navigate the real-world while playing online.  What does it mean for advertisers and business owners?  Location-based games will encourage new in-person interactions based on digital sport.  This can be leveraged to guide new customers into stores they otherwise might not know existed…  In this case, if your location happens to be a PokéStop, you've hit the customer-driving jackpot.
Advertisers Hope to Catch Pokémon Traffic | AdExchanger | July 14, 2016
Quick pitch: Pokémon Go is crushing it.  With nearly twice the average minutes-per-day usage of Snapchat/Twitter/Instagram and highly dynamic playing map, everyone wants to catch some of the action. 
Now I want the details: Street vendors are scrambling to be near PokéStops, restaurant owners are offering discounts to patrons who tweet screenshots of Pokémon they've caught inside and retailers are paying for lures to be activated in their stores.  They're responding to the activity generated by the highest-grossing app in the App Store and Google Play Store.  The question on their minds – how has this increased my business' sales?  The answer – unknown for some, fairly well-known for others.  For large multi-location businesses there's no doubt that PokéStops are increasing foot traffic, but the total impact can't be concretely defined due to a minimal traffic/data sharing back to organizations.  For single-location businesses who are near PokéStops, the impact is clear.  They've seen, first hand, the increase in foot traffic.
What we're thinking:  The download and usage trends speak for themselves – buying a PokéStop will almost certainly attract potential customers to a location.  But, with limited data available on individual user-activity, the impacts will be difficult to measure on a large-scale.  This shouldn't stop multi-location retailers from allowing their store managers to purchase lures for their locations (~$5/Day).  The measurement of this marketing will catch up to the customer activity but for now, we think everyone should be in "Go" mode when it comes to participating in this new wave of location-based gaming.  Offering Point-Of-Sale promo codes for customers who can prove they caught Pokémon in your store is a great way to encourage this as well.
Have you given Pokémon Go full access to everything in your Google account? | The Guardian | July 12, 2016
Quick pitch: While users are "catching 'em all", Nintendo and Niantic are catching all of their users' Google Account data… Or are they?
Now I want the details:  There's been a big scare, amidst all of the Pokémon Go excitement, that Niantic Labs created the game to require "full access" of users' Google accounts.  While this is in fact what the app's permissions define, both Niantic and Google have spent the last week reassuring users that they are not reading/sending emails, accessing, editing and deleting documents in Google Drive and Google Photos, or accessing browser and maps histories.  Turns out that Niantic Labs simply used an outdated version of Google's shared sign-on service.  A big miss for the up and coming development shop and a disappointing mistake for the internet giant.
What we're thinking:  It's important to know exactly what your customers expect from a privacy perspective and, even more importantly, how they expect those terms to be worded and delivered.  The fact is – customers read privacy policies and if an app, website or technology acquires seemingly unnecessary data, the internet world will quickly make sure everyone knows about it.  The issue with Pokémon Go is not that the app was using unnecessary data, it's that the app's default setting was to allow acquisition of this data.  A lesson we can all learn from.  
Bored tonight?  Head over to TD Bank Ballpark in Bridgewater, NJ to watch the Somerset Patriots baseball game, see the full moon and catch some Pokémon!